An advanced seven-week course in building a new consciousness and acceptance of true abundance in every area of your life.
The program consists of an e-workbook with seven lessons and seven audio programs that accompany the lessons.
There is a bonus meditation.
---
Program materials include
Note: All program materials are available for download only. No materials are shipped by mail.
---
How this program is designed to be used
The program is designed for group study, preferably with a Facilitator or Group leader. Sharing your experience of the program is a powerful tool for building a new awareness. To paraphrase someone famous, "whenever two or more are gathered together, good things happen." Individual study is an option but the experience will not be as much fun as a group of at least two.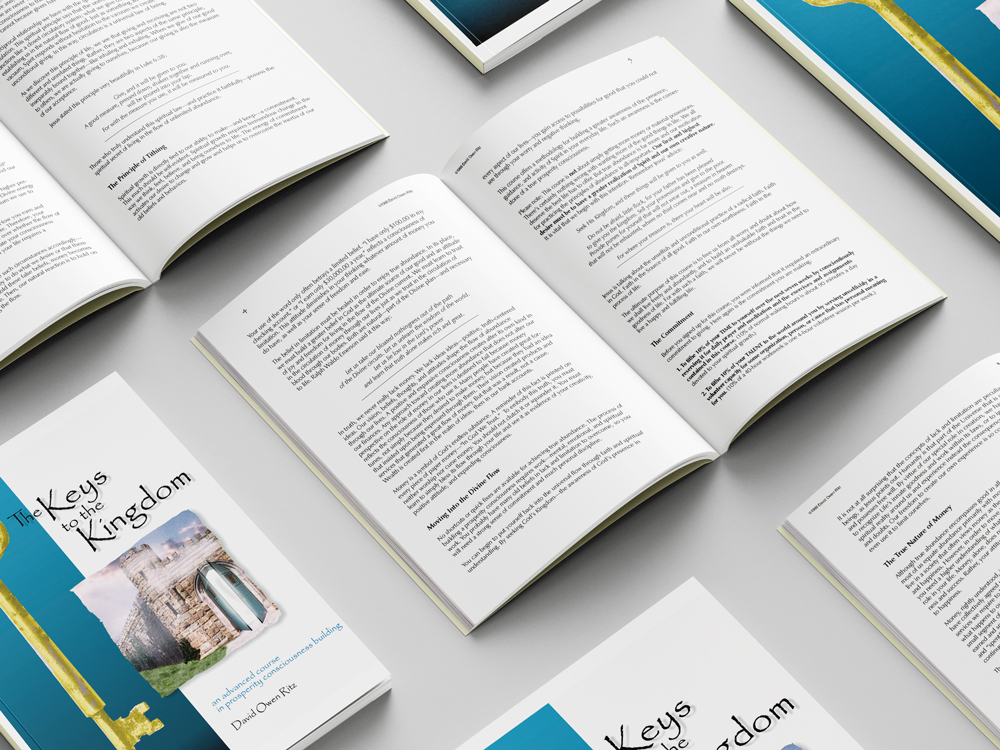 Listen to a sample from the audio program
Here is an a la carte menu of Keys to the Kingdom products. You can pick and choose the products and quantity you want then click add to cart to begin the checkout process.
Frequently Asked Questions
Spiritual growth is directly tied to making and keeping a commitment. Tithing activates the Law of Circulation and reminds us that Spirit is the ultimate source of our good. Tithing is a form of prayer that, when done with a pure heart free of expectations, enriches our lives in many ways, seen and unseen.  For those who desire to live their faith full out, a commitment to tithing is a life-changing experience.
El crecimiento espiritual está directamente relacionado con hacer y mantener un compromiso. El diezmo activa la Ley de Circulación y nos recuerda que el Espíritu es la fuente última de nuestro bien. El diezmo es una forma de oración que, cuando se hace con un corazón puro y libre de expectativas, enriquece nuestras vidas de muchas maneras, visibles e invisibles. Para aquellos que desean vivir plenamente su fe, el compromiso de diezmar es una experiencia que cambia la vida.
The program is perfect for spiritual communities and book study groups to meet online. Anyone can participate from anywhere. 
PayPal is an electronic payment processor that allows customers to send money securely without divulging your bank information to the merchant. You can use this service even if you do not want to sign up for an account of your own. Making payments with PayPal is free of charge for the buyer. The person or business receiving the money is responsible for paying any PayPal transaction fees.
Click on the PayPal link on the merchant's website. Depending on how the website is designed, you may have to choose a "PayPal" option from a payment type selection screen, then click "Continue" or "Submit" before you can move on to the PayPal payment screen.
Look for a section on the payment screen that reads "Don't have a PayPal account?" You should see a link titled "continue checkout" somewhere in this section. Select this link to open the credit card input screen.
Enter your personal information, billing address and credit or debit card information into the appropriate lines on the input screen. Click the "Review Payment" button when you are done.
Review the payment details displayed on the screen to make sure everything is correct. If you need to edit any of the information, click the "Change" button at the bottom of that section. When you are satisfied that your credit or debit card information is accurate, click the "Pay Now" button to finalize your payment.
For further information or to ask questions please contact the program manager